Helen Keller – Educator, Author, Humanitarian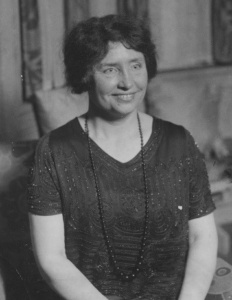 "My hand is to me what your hearing and sight together are to you. In large measure we travel the same highways, read the same books, speak the same language, yet our experiences are different. The hand is my feeler with which I reach through isolation and darkness and seize every pleasure, every activity that my fingers encounter. With the dropping of a little word from another's hand into mine, a slight flutter of the fingers, began the intelligence, the joy, the fullness of my life." – Helen Keller
This month we honor the life, legacy and enduring inspiration of Helen Keller. Born on June 27, 1880, Helen Keller had normal eyesight until the age of 19 months. She came down with what experts today identify as scarlet fever or meningitis. The illness left her deaf and blind. For five years following her illness she lived in near isolation, unable to communicate. Then, in 1887, a young teacher who was also partially blind, Anne Sullivan, entered Helen's life. Anne worked with Helen to teach her hand signing. They made very little progress until the day Anne pumped water over Helen's hand while spelling w-a-t-e-r on her palm. Helen got it and from there her learning took off. She went on to attend Radcliffe University, graduating cum laude – the first deaf-blind person to earn a college degree.
Helen became an outspoken advocate for people who are deaf-blind as well as people with other disabilities. She also became active in the NAACP and was a founding member of the ACLU. She believed in the potential of people, regardless of ability to hear or see.
She was a much sought-after speaker and author. She wrote numerous essays and books and traveled to 39 countries to raise awareness about the need to provide education and create opportunities for people who are deaf and/or blind. In 1964, she received the Presidential Medal of Freedom from President Johnson. Helen Keller passed away on June 1, 1968.
Helen Keller's life continues to be an inspiration. She overcame many obstacles in her life with a fierce determination to achieve the goals to which she aspired. She travelled throughout the United States and internationally raising awareness and charitable contributions. We remember and honor her this month. Helen Keller inspires our mission to discover, develop and achieve the full potential of all who come through the doors of Society for the Blind.