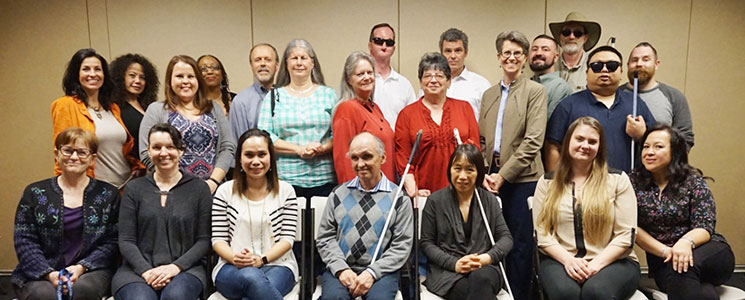 Shari Roeseler
Executive Director
[email protected]
Elizabeth Gauntt
Receptionist / Administrative Assistant
Finance & Human Resources
Cherry Flanagan
Director of Finance & Human Resources
[email protected]
Debbie Hurst
CPA, CGMA (Consultant)
Terry Petertson
Finance Associate
Resource Development
Lina Lloyd
Director of Resource Development
[email protected]
Jesse Huynh
Development and Marketing Manager
Ceridyn Wood
Community Engagement Coordinator
Core Skills Program
Shane Snyder
Director of Core and Senior Programs
[email protected]
Samantha Adams
Instructor, Adaptive Technology
Bob Cole
Instructor, Adaptive Technology
Paul Gray
Core Skills Program Manager
Jill Guilbeau
Instructor, Braille
Brandie Kubel
Instructor, Independent Living Skills
Joseph Nguyen
Instructor, Orientation and Mobility
Randy Owen
Instructor, Adaptive Technology
Diane Starin
Instructor, Independent Living Skills and Braille Literacy
Terri Walsh
Instructor, Adaptive Technology
Senior IMPACT Project
Priscilla Yeung
Manager of Senior Programs
Debra Celiz
Instructor
Elaine Covaliuc
Instructor
Randy Cummings
Instructor
George Hunter
Driver/Assistant
Debra Pendleton
Instructor
Heather Pham
Instructor
Kathleen Shevlin
Senior Outreach Manager
Lovohn Williams
Driver/Assistant
Alex Zuniga
Instructor
Low Vision Clinic
Rachel Norton
Director of Clinic Services and Outreach
[email protected]
Toni Boom
Low Vision Occupational Therapist
Anthony Castanares, O.D. 
Low Vision Optometrist
Kayle Edwards, O.D. 
Low Vision Optometrist
Chelsea Gray
Manager of Clinic Operations
Jackelyn Meyer, O.D. 
Low Vision Optometrist
Oshchane Walker
Patient Services Specialist
Bingo Staff
Ellen Deleon
Bingo Supervisor
Braille Production and Training Program
Elizabeth Symington
Program Coordinator
Society for the Blind's Board of Directors
Volunteers With A Vision
A volunteer Board of Directors governs Society for the Blind. Society for the Blind seeks out Board members that bring the necessary skills and expertise to inform our strategic decisions, ensure financial responsibility and accountability, and to lead the organization in realizing its mission. At least one-third of our board members are blind or low vision.
---
Michelle Machado, President

First Northern Bank
Michelle Machado joined the Society for the Blind Board of Directors in July 2018.
Michelle is Vice President/Commercial Loan Officer with First Northern Bank, a locally based independent community bank specializing in relationship banking. Michelle has worked in the banking industry in the Sacramento area for 20 years.
Michelle has an undergraduate degree in Finance from California State University Sacramento. She is currently attending Pacific Coast Banking School, a graduate-level management education program focused on the financial services industry, and will graduate with a leadership certificate in September 2019.
---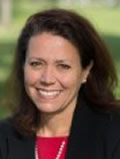 Dawn Cornelius, Vice President
Cornelius & Davini LLP
Dawn Cornelius has been a member of the Society for the Blind Board of Directors since July 2010.
Dawn is a partner at Cornelius & Davini LLP, a local CPA firm. She specializes in income tax preparation and consulting, and litigation support services. Dawn has an undergraduate degree in Economics from UC San Diego and an MBA and Master's in Accounting from the University of Washington.
---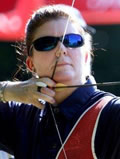 Janice Walth, Immediate Past President

See No Limits
Janice Walth joined the Society for the Blind Board of Directors in July 2013.
Janice has been a world class competitive archer for the past eight years but has been blind since childhood with Retinitis Pigmentosa or R.P., a degenerative condition of the retina. Janice has a bachelor's degree in Assistive Technology. She is an Independent Service Provider for the Department of Rehabilitation and offers technology support to individuals who are blind throughout the San Joaquin Valley.
Janice competed in the 2007 Paralympic Archery World Championships in Korea winning the overall silver medal for the United States (men's and women's), while setting five women's world records. Janice continues to complete world-wide.
---
Allison Otto, Secretary
Otto Construction
Allison Otto joined the Society for the Blind Board of Directors in September 2007.
A third-generation member of the family business, Allison joined the Otto Construction team as its marketing director in 2000. In 2021, she became President and CEO.
Allison graduated from the University of Southern California with a degree in business management and earned her Certificate in Construction Management from UC Davis.
---
Les Passuello, Treasurer
VSP Global
Les Passuello joined the Society for the Blind Board of Directors in March 2015.
Les is the Senior Vice President of Finance for VSP Global, the largest and only not-for-profit vision benefits company in the U.S., serving over 70 million members nationwide. He has worked in various positions at VSP for over 20 years, and previously worked in banking, insurance, and retail.
Les is a CPA and has an undergraduate degree in Accounting from Indiana State University and an MBA from the University of Texas at Arlington. He has previously served on the Board of Directors for Make-A-Wish and Orangevale Rotary Club.
---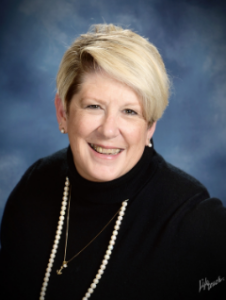 Ann Marie Bronte
Ann Marie graduated from California State University, Sacramento with a master's in education and bachelor's in Spanish. Her career spans both teaching and administrator roles, primarily in Title I schools.  She also worked in retail sales/banking.  Currently, she is a member of her church's Pastoral and Finance Councils.
Ann Marie's Delta Gamma experience began serving as a collegiate officer, chapter adviser, and alumnae officer in Sacramento. Her roles at the regional level include overseeing alumnae chapters and collegiate chapters in finance and chapter administration. Ann Marie served in several international positions for Delta Gamma primarily focused on housing/finance/overall administration. She facilitates Delta Gamma internal officer training at various Institutes and training days.
---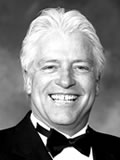 William Carter
William E. Carter Co., Inc.
William (Bill) Carter joined the Society for the Blind Board of Directors in September 2007.
Bill is owner of the William E. Carter Company, a full service design/build residential/commercial remodeling firm, serving the greater Sacramento area since 1976. He has been a pioneer in the industry receiving many accolades and design awards including national, regional and local recognition
---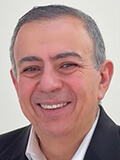 Adam Elshama
Ribbon Communication, Inc.
Adam Elshama joined the Society for the Blind Board of Directors in January 2023.
Adam Elshama is a technology leader with over 30 years in senior positions leading high-tech companies to achieve their goals. He has worked in a variety of organizations, from well-established corporations to startups, across multiple continents. Adam received his bachelor's and master's degree in engineering from Northeastern University.
He grew up in Alexandria, Egypt, where he witnessed the challenges and lack of resources and education faced by visually impaired citizens. Adam's grandfather lost his eyesight, and saw the barriers his grandfather had to face living in an area that wasn't able to accommodate those who are visually impaired. This drives Adam's passion to improve the quality of life for those who are visually impaired.
Prior to joining The Society for the blind, Adam served on the board of directors for the Sacramento Braille Transcribers.
---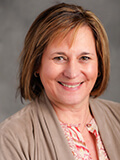 Angela Justice
Janssen
Angela Justice joined the Society for the Blind Board of Directors in January 2023.
Angela has held various positions in over 30 years of being in the Pharmaceutical Industry. She is currently West Coast Field Director for Janssen, Pharmaceutical Companies of Johnson and Johnson. As part of the Retinal Medical Affairs team, she supports the clinical and commercial development of transformational therapies that restore and preserve vision in patients with blinding retinal diseases.
Angela holds an undergraduate degree from Drexel University and a Master of Science in Pharmaceutical Quality Assurance and Regulatory Affairs from Temple University. She also completed a Master of Public Health from Drexel University.
---

Stephen M. Lerner
California Bureau of Real Estate, Sacramento
Steve Lerner re-joined the Society for the Blind Board of Directors in May 2014. He previously served on the board from 2003 through 2012, serving as Board President from 2004 through 2008.
Steve obtained his Juris Doctor degree from the University of the Pacific's McGeorge School of Law. Steve was appointed Assistant Commissioner of Legal Affairs at the California Bureau of Real Estate by Governor Brown Jr. in November 2015. Prior to this appointment, Steve served as Deputy Attorney General in the Natural Resources Law Section of the California Attorney General's Office. Steve also worked in private practice for 16 years, including 10 years at McDonough, Holland & Allen.
Steve is a 2009 graduate of the Sacramento Metro Chamber's Leadership Program and served on the program's Alumni Board for several years.
Witnessing his grandmother lose her sight because of diabetes, Steve is passionate about Society's mission to empower individuals living with low vision or blindness to discover, develop and achieve their full potential.
---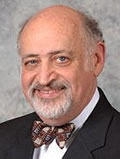 Mark J. Mannis, M.D.
UC Davis Health System Eye Center
Dr. Mark Mannis joined the Society for the Blind Board of Directors in July 2011.
Dr. Mannis is Professor and Chair of Ophthalmology for the UC Davis Health System Eye Center specializing in corneal transplantation and external diseases of the eye. He received his medical degree from University of Florida College of Medicine and has been in practice for 33 years.
Dr. Mannis has pioneered the use of the Implantable Macular Telescope (IMT) to restore central vision for patients with Age-Related Macular Degeneration at the UC Davis Eye Center.
---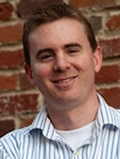 Bryce McAnally
Kaiser Permanente
Bryce McAnally joined the Society for the Blind Board of Directors in March 2010.
Bryce is the Director of Media and Programs for Kaiser Permanente. He has an undergraduate degree in Communication Design from California State University-Chico and an MBA in Marketing and Organizational Behavior from California State University-Sacramento.
---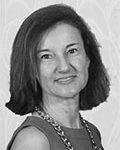 Marlene Mourtzikos
Marlene Mourtzikos joined the Society for the Blind Board of Directors in January 2017.
Since joining Delta Gamma Fraternity in college, Marlene has been giving time to organizations that reflect Delta Gamma's philanthropic vision of Service for Sight. She is especially passionate about serving our veterans and active duty men and women who are blind or have low vision, and has volunteered with the VA Long Beach Healthcare System's Blind Rehabilitation Center since 2012. With over 18 years of retail and online industry experience spanning E-Commerce, catalog, and brick-and-mortar channels, she is currently a freelance internet retail consultant. Marlene holds a B.A. in Economics and Political Science, cum laude, from the University of Rochester and a J.D./M.B.A. from Southern Methodist University.
---
Dr. Paul Peterson
Peterson Chiropractic Corporation
Dr. Paul Peterson rejoined the Society for the Blind Board of Directors in January 2014. He previously served on the board from 1998-2011.
Although Dr. Peterson grew up with a macular degeneration which he inherited and was diagnosed with at the age of six, his vision has never slowed him down. Dr. Peterson has operated the Peterson Chiropractic Clinic in Sacramento for the past 37 years. He graduated as valedictorian from Palmer College of Chiropractic where he went on to become a member of the faculty. While teaching at Palmer, he was the team doctor for the rugby football team. Dr. Peterson has also been a member of the Palmer College of Chiropractic Board of Trustees for the past 33 years.
---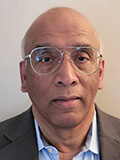 Goutam Sinha
Wipro Limited
Goutam Sinha joined the Society for the Blind Board of Directors in January 2023.
Goutam Sinha is a technology executive with extensive experience in product management of real-time systems with customers and engineering teams spread globally. With interest in non-profit organizations, Goutam is also serving as Chief Business Officer for CrowdDoing.world, focused on sustainability initiatives. In the past he has been board member and President of Sacramento Braille Transcribers. Goutam has an MBA from Ohio State University, MS from Texas Tech University, MS from University of Kentucky, and B.Tech from IIT Kharagpur, India. He resides in San Jose, California.
---
Jeff Thom
Jeff Thom joined the Society for the Blind Board of Directors in September 2016.
Jeff Thom graduated from Stanford Law School in 1978, after obtaining a bachelors degree in political science from Willamette University. Jeff worked as an attorney for the California Legislature for 30 years. He is currently the immediate past president of the California Council of the Blind and first vice president of the American Council of the Blind. He has served in a variety of blindness-related capacities on the national, state, and local level and is currently chair of the Sacramento Regional Transit District Mobility Advisory Council. He is married, and is a father and grandfather. Jeff loves to read and watch sports.
---