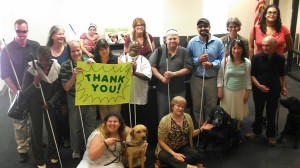 "Alone we can do so little; together we can do so much." — Helen Keller
Society for the Blind provides services to more than 6,000 youth, adults, and seniors throughout our region each year who are blind or low vision. As a nonprofit community benefit organization, this important work is certainly only possible through the generosity of your support.
Your gift can make a difference!
Gifts of cash, stock, bonds, mutual funds, property or Life Insurance as a one-time, monthly or annual gift are greatly appreciated. We also welcome legacy gifts and program naming opportunities at various levels. Consider making your tax-deductible gift today.
For more information on how you can make a difference in the life of someone who is blind or experiencing vision loss, please contact our Resource Development Department at [email protected].
Donate By Mail
Resource Development Department
Society for the Blind
1238 S Street
Sacramento, CA 95811
Download our Donation Form »
Other Giving Opportunities
Corporate Giving – Become a Visionary Partner
Your business or company can show it's compassion for our mission by becoming a Visionary Partner. Through corporate grants, event sponsorship, donations and in-kind services, your partnership helps to remove barriers and build independence.
Please help us in supporting and thanking our generous business partners who make a difference in the lives of those in our community who are blind or low vision!
Give With Confidence
For all gifts made online, you will receive a receipt of your donation via email. It is our policy that all donations are non-refundable.
Confidentiality is very important to us, both for the individuals we serve and for our donors. Society for the Blind will never rent, sell or share your information.
Society for the Blind is a tax-exempt 501(c)(3) nonprofit organization. Your gift is tax-deductible as allowed by law. Federal Tax ID #94-1384666