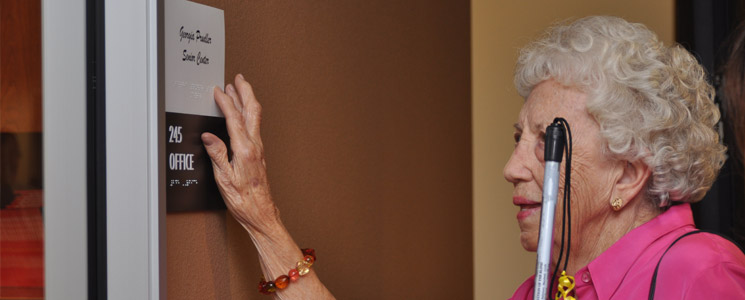 Senior IMPACT Project
Improving and Maintaining People's Ability to Care for Themselves
Changes in our vision as we age are a natural part of life. In fact, three of the leading causes of vision loss, macular degeneration, glaucoma and cataracts, typically occur in people over the age of 55. If you are experiencing changes in or a loss in your vision, the Senior IMPACT Project can help.
Our services and classes offered through our Senior IMPACT Project are geared for individuals 55 and older and focus on alternative, non-visual techniques and skills that enable you to perform day-to-day tasks and activities, enabling you to maintain or increase your independence and enjoy life to the fullest.
IMPACT Retreat
Our eight-day retreat conducted monthly at Society for the Blind gives you an immersion experience and exposure to:
Orientation and Mobility (O&M)

Learn alternative techniques and skills to travel safely, efficiently, and independently, whether in the home or out and about.

Independent Living Skills

Practice alternative techniques and use adapted tools to perform tasks of daily living, including cooking, cleaning, shopping, home maintenance, organization, personal finance, and more.

Assistive Technology

Learn how to use the latest in assistive technology to operate computers and mobile devices – including smart phone and tablet computers – to send/receive texts and email, access the internet, fill-out online forms, shop, bank and pay bills online, as well as create documents and spreadsheets for home, school, and work.

Braille

Learn to read, write, label, access technology, and more using the Braille tactile system of communication.
You'll receive individualized attention from our experienced and highly qualified instructors and mentors who are themselves blind or low vision and familiar with both its challenges and solutions.
An IMPACT Retreat will give you the opportunity to join in discussion groups with peers on issues around vision loss, participate in community activities, as well as form long lasting bonds with others going through similar experiences of vision loss.
Our Senior IMPACT Project is funded by government grants, individual and corporate donations, so there is no cost to eligible participants, including transportation to and from select activities.
Bring IMPACT Home
If you are unable to attend our IMPACT Retreat, one of our IMPACT instructors can visit you in your home to teach particular skills and offer resources based on your needs and goals.
IMPACT Support Groups & Workshops
Our peer support groups give you resources and methods for coping with the changes in your vision. IMPACT support groups meet monthly and are available for both English and Spanish speakers. We also partner with and help establish various support groups throughout Northern California.
Throughout the year, we offer workshops that address topics including challenges faced by family and loved ones of individuals dealing with vision loss, health and wellness, recreation and leisure, and other important areas of interest.
Visit our events calendar for more information on dates and times of upcoming workshops.
IMPACT in the Community
Raising awareness of low vision and easing the challenges it may have on our lives, is part of our commitment to serve our community. Each year we provide hundreds of informative and educational presentations to various organizations, groups and communities. Please contact us to invite a member of our IMPACT team to speak to your company, civic organization or support group or, email us at [email protected].
Make Your IMPACT
Please contact us to request more information about our Senior IMPACT Project or to refer a family member or friend. Join our mailing list for upcoming events, or contact us at [email protected] or (916) 889-7516.