Welcome to our Low Vision Clinic
The Low Vision Clinic of the Society for the Blind is one of the longest-running community-based eye clinics in the Sacramento Region. The clinic was established in 1975 by a group of volunteers who saw a need to provide eye healthcare and training in low vision devices.
Today, as a nonprofit low vision clinic, we are one of the most comprehensive providers of low vision services in Northern California caring for patients in 27 counties. We are dedicated to enabling people with low vision to use their remaining vision to its fullest potential.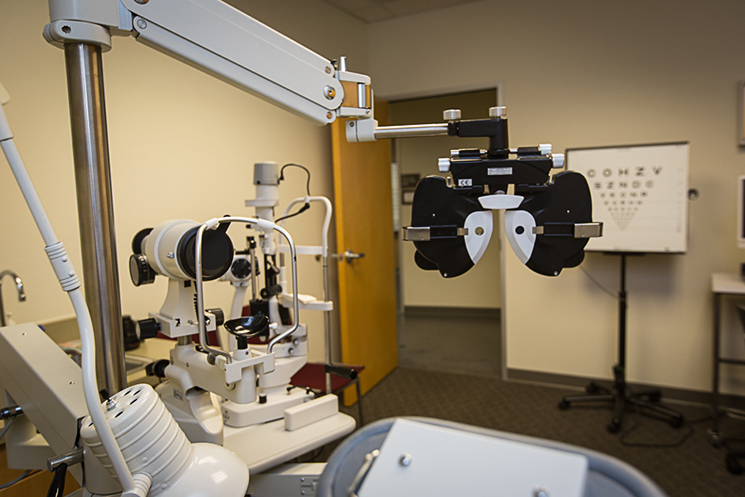 Our doctors, who are specially trained in low vision eye care, are here to provide a continuum of care alongside your primary Optometrist or Ophthalmologist. Our team will evaluate your particular needs and provide you with demonstrations and recommendations for various assistive devices to better meet the demands of day-to-day living.
Our clinic is equipped with state-of-the-art technology, generously donated by VSP Global, and created specifically for the specialized low vision exam. We carry the most expansive collection of the latest in assistive technology, sometimes called "aids and appliances", such as portable electronic magnifiers, special lighting, closed-circuit televisions (CCTVs) and other optical tools, that will best suit your needs in the home or on the job.
We also carry a variety of specialty low vision lenses with a wide selection of modern frames. Working with our Low Vision Optometrist and our Low Vision Optician, we will find the glasses that fit your low vision needs.
Please note: magnifiers and other optical devices are available for purchase after being evaluated by one of our low vision doctors.
Who Can Benefit From Our Low Vision Services
People with low vision have conditions that affect their useful vision that cannot be restored by conventional glasses, contact lenses, medical treatment or surgery.
Some of the leading causes of low vision are Macular Degeneration, Glaucoma, Cataracts, Diabetic Retinopathy, Retinitis Pigmentosa, Retinal Detachment, and Stroke. If you've been diagnosed with a low vision condition or know someone experiencing changes in their vision, we can help!
Low Vision Evaluations are available at our clinic, by appointment only, at 1238 S Street in midtown Sacramento, Monday through Friday.
Please contact us to learn more or to schedule your Low Vision Evaluation today. Or, simply call (916) 889-7545 or send a FAX to (916) 492-2487.
Get Directions to the Low Vision Clinic »
The Low Vision Clinic at Society for the Blind accepts patients from the Department of Rehabilitation and patients insured by Medicare, as well as many private insurance companies.