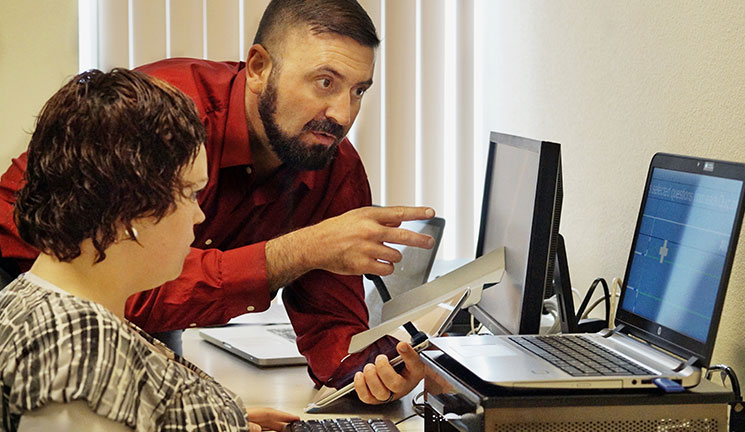 "The best educated human being is the one who understands most about the life in which he is placed" — Helen Keller
As the only teaching facility for people who are blind or low vision in the region, we proudly serve 26 counties in Northern California. We offer a variety of classes, free activities and events geared toward practical day-to-day adaptation to life with less vision. All of our programs are designed to restore self-confidence and empower people who are blind or low vision to do familiar tasks and continue participating in activities they enjoy.
Low Vision Evaluations are also available to help you make the most of your remaining vision. Learn how adaptive devices such as magnifiers and CCTVs can make day-to-day life easier.
Our Classes
Our goal is to keep you active, on the job, and enjoy life to the fullest. Acquiring the training provided in these classes can be the key to accomplishing your goals, achieving your academic, career, and personal success, as well as realizing your lifelong dreams.
We offer on-site classes at our location on 1238 S Street in midtown Sacramento, Monday through Friday.
Orientation and Mobility (O&M)

O&M offers skills to help you move around and expand your world. We teach alternative techniques and skills to travel safely, efficiently, and independently, whether in the home or out and about.

Independent Living Skills

Learn how to use alternative techniques and tools to navigate day-to-day tasks including cooking, cleaning, shopping, home maintenance, organization, personal finance, and more.

Computers and Assistive Technology

Technology has risen to a level which provides excellent access to most of the computers and major software applications commonly used today, including smart phones and tablets. Clients will be trained in all aspects of contemporary computer use at the level appropriate to their interests and skill level to include sending and receiving texts and emails, accessing the internet, completing online forms, shopping, banking online, as well as creating documents and spreadsheets for personal, academic, and work purposes.

Braille Literacy

We begin with an assessment of your current skill level and a discussion of your needs to develop your plan for reading, writing, labeling, accessing technology, and more using the Braille tactile system of communication.
Our unique approach is based on a strong belief in the power of mentorship. Since our instructors are blind or low vision, you will have the unique opportunity to truly connect with someone who is visually impaired and living a full and independent life.
Workshops and Events
Enjoying life does not stop with vision loss. We offer a wealth of classes and activities to enhance your social and recreational opportunities. To attend these free classes and workshops you must be a current or former student or student parent or caregiver.
Community Resources

Our Health and Education Workshop Series links you to additional resources available in the community. Topics often touch other aspects of our students' lives such as housing, domestic abuse, counseling, financial planning, legal services and more.

Support Groups

For many of our students who experience recent vision loss, connecting to peers is an excellent way to build relationships and gain practical advice. Support group sessions meet weekly to share experiences, insights and build a special camaraderie with others who have lost vision.

Check out our schedule of upcoming events and recreational activities View All »
December 3, 2023 - December 9, 2023
December 10, 2023 - December 16, 2023
Join us for a recreational class like yoga, attend a presentation offered through our monthly Health and Education Workshop Series, or meet others experiencing some of the same things you are. Learn more about getting started by contacting us by email or call (916) 452-8271.
Do You Need a Personal Reader?
Volunteers are available at Society for the Blind to provide reading services to manage your personal and business matters. All reading is done at our center at 1238 S Street in midtown Sacramento located just one block away from Light Rail. To set an appointment with one of our Personal Readers, please contact us by email or call (916) 452-8271.