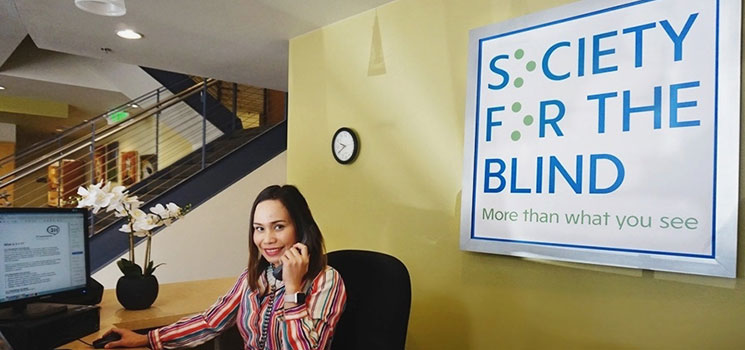 At Society for the Blind, we understand that losing your sight even partially might feel devastating. The adjustment to losing your vision is not only something that affects you physically, but emotionally and psychologically as well. Society for the Blind is the first step toward that adjustment! We offer a variety of programs and services designed to help people of all ages with vision loss continue leading enriched and fulfilling lives.
Take advantage of classes, workshops and events designed to give you the support, training, tools and guidance to continue excelling in school, work, and at home.
Getting Started
Our services are available to individuals who are blind, legally blind or severely visually impaired.
Many of our students seek financial assistance and other support from the California Department of Rehabilitation. It is free to apply to become a client at Department of Rehabilitation. Department of Rehabilitation has orientations every Monday from 9:00 am to 10:30 am at their location in Sacramento. Once we receive your referral from Department of Rehabilitation, our Director of Client Services will coordinate your schedule with you for assessments and training.
If you would like to take classes but are not a client of the Department of Rehabilitation, you can enroll as a self-pay client. Please contact us for more information about enrolling at Society for the Blind as a student or, contact our Client Services Department at (916) 452-8271.
To participate in our programs geared for individuals 55 and over, please contact us for more information or, email [email protected]. You may also contact our Senior IMPACT Project at (916) 889-7516.
Refer A Friend
If you are a teacher, spouse or friend of someone who may benefit from our programs and services, please submit a referral. We will contact the individual and connect them to the right programs and services.
Health-Care Providers
If you are an ophthalmologist, optometrist or health-care provider, please use our Low Vision Referral Form to refer your patient to Society for the Blind and connect them to resources, programs and services.