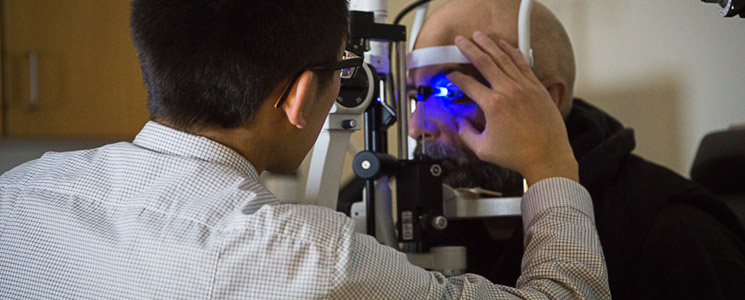 Our Low Vision Clinic is extremely unique since we specialize in low vision evaluations. A Low Vision Evaluation is quite different from basic eye health and refractive examinations routinely performed by primary care eye doctors. The average low vision eye evaluation typically requires 1 ½ to 2 hours.
Our doctors will work with you to learn your vision loss history and the difficulties you may be experiencing performing daily tasks and activities due to your vision loss. After completing the low vision evaluation, we will work with you in finding the low vision aids and devices that will best suit your lifestyle and needs. Recommendations may range from simple hand-held magnifiers to electronic reading machines.
Our doctors may also refer you to work with our occupational therapist to further help you achieve your functional goals. Our therapist can provide training on adaptive techniques, contrast enhancement and use of magnification devices. We can also provide lighting recommendations and instruction on accessibility features for computers, tablets and e-readers.
We consider ourselves a partner in your ongoing care of your low vision. Our doctors and staff will provide guidance for you, family members and other care providers with support and additional resources and services available to you. All with the goal of helping you remain independent and active.
Tips to Prepare for Your Low Vision Evaluation
Now that you have taken the first step and made an appointment with our Low Vision Clinic, we would like to help you get the most out of your visit. The key to a successful appointment is communication.
You can prepare for your visit with us by thinking about specific challenges you are having at home, work or school due to the changes in your vision. This may include activities such as reading, watching TV, hobbies (sewing, knitting and woodworking), using a computer, mobility or other social and recreational activities.

After your Low Vision evaluation, we will work with you to design a vision rehabilitation plan. It will be helpful for you to consider goals you hope to accomplish so that we can recommend the right tools.

Please bring with you any glasses or magnifiers that you are currently using when you come to the clinic. If you have any special materials (forms, books, needlepoint, etc) you want to be able to work with, bring them to your evaluation appointment as well.

Download our New Patient Kit to complete before your Low Vision Evaluation. Please bring this paperwork with you on the day of your visit.
Please contact us to learn more or to schedule your Low Vision Evaluation today. Or, simply call (916) 889-7545.