Society for the Blind's Cane-fu class featured on KCRA3!
As 24 seniors with vision challenges learned self-defense at Society for the Blind's "Cane-fu" class on Saturday, KCRA3 was there to capture the moment. The event, which was part of Society for the Blind's Senior IMPACT Project "No Limits" workshop, was featured on KCRA's evening news that night and included interviews with class participants, as well as self-defense instructor and Society for the Blind executive director Shari Roeseler. Shari has taught self-defense workshops for 15+ years and holds a second degree black belt in Kenpo Karate.
The class focused on balance, awareness and using the straight white cane as a self-defense tool. The day-long "No Limits" workshop, attended by more than 60 individuals, focused on pursuing leisure activities with vision loss and included a wide range of activities including self-defense, the art of origami, strategies for improving memory, working with an iPhone and gardening techniques. Stay tuned for more information about our next Senior IMPACT Project workshop!
Check out the video here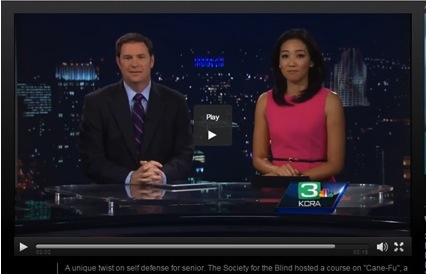 Click here to watch the video!