Client Spotlight – Debra Celiz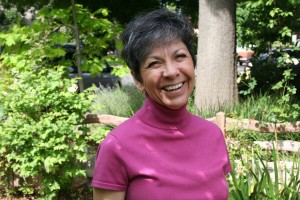 With a heavy heart, Debra Celiz of Curtis Park decided not to go to her high school reunion several years ago when she started losing her vision.
"I wanted to go and reconnect with friends because I knew I'd be coming back to the area, but I was so self-conscious," she said. "I was terrified of falling and making a fool of myself or not recognizing anyone. I pictured myself sitting in a corner in the dark because people would feel sorry for me."
She responded no and began planning her move from San Francisco to Curtis Park as she worked to find ways to cope with her vision change. Doctors had discovered she had a rare form of Retinitis Pigmentosis (RP) called Bietti's. She gradually began to lose her vision – she had trouble seeing her computer at UCSF Medical Center where she managed 12 physicians and 45 staff. She could not drive at night, had some serious falls and even endured a traumatic brain injury from walking into scaffolding. That is when depression started to sink in, and she feared the only satisfaction she would have from life was reliving her memories.
Once she moved to Curtis Park, she went directly to Society for the Blind. She was fortunate to know about the organization because her family lived in the area and she would pass by the office. Yet she had no idea how Society for the Blind's Senior IMPACT Project would change her perspective on her vision – and on her life.
During the weeklong Senior IMPACT Project retreat, Debra learned basic living skills such as how to cook, navigate streets using a white cane, use public transportation, shop and organize money in her wallet, and use talking gadgets like a labeler.
"I must say, that retreat changed my life," Debra said. "It opened the doors to new possibilities when I saw how the instructors lived their lives so independently despite vision challenges. They gave me a lot of support and I started to develop my confidence and become hopeful for my future."
A key moment for Debra was when she purchased a pair of high-heeled shoes to wear to her latest high school reunion this past October.
"I had developed some mobility skills with my cane, and I was determined to go," she said. "I walked in with my cane and high heels and was greeted so warmly by everyone there. I danced and had a fantastic time, and I reconnected with people I had not seen in more than 40 years."
At one point, someone at the reunion commented that her vision loss was a tragedy, and Debra admits to giggling and explaining that vision loss is a challenge and inconvenience, but definitely not a tragedy.
Debra and her high school friends have continued to get together regularly since the reunion, often gathering for lunch or parties. One night they even went out to clubs and laughed and reminisced the whole time. She has spent a significant amount of time and energy restoring her Frank "Squeaky" Williams home and beginning advanced classes at Society for the Blind so she can work again as a health care administrator. She also volunteers at Society for the Blind as a mentor in the Senior IMPACT Project and at community outreach events.
"I feel like I have back everything I had lost after starting to lose my vision," she said. "All those feelings of despair, isolation and fear are gone. Society for the Blind gave that to me – they're like my family. I'm exhausted now, but it's fantastic because it means I have a full, rich life."